Auditorium Chair SJ9613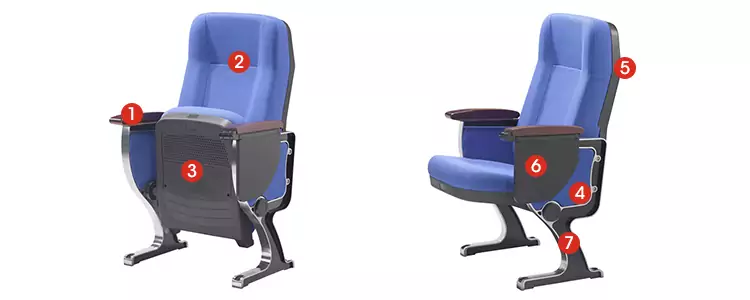 ① Armrest cover: Imported timber externally applied with polyester coating.
② Seat&Back sponge: High-density PU, molded by cold foaming.
④ Side pad fabric: Stain and discoloration resistant premium fabric.
③&⑤ Back & seat cover: Premium deformation resistant high-density hard plywood, highstandard treatment processes.
⑥ Writing table:High-quality PP.
⑦ Leg: Molded by die-casting with highstrength aluminum alloy.
Cushion recovery: Spring plus damping for flexible recovery, and free from noise
Screw: Steel hexagon socket cap screws and expanding nut.

Dimensional reference:
The width of the foot of the station: 560MM;
The length of the foot of the station: 310MM;
Backrest height: 1010MM;
Armrest height: 630MM;
Seat width: 460MM;
Armrest length: 570MM;
Writing board length: 880MM.