As a frequently used public seat, waiting chairs are widely used in public places such as airports, hospitals, clinics, high-speed railways, bank lobbies, etc.The waiting chair has super load-bearing capacity and stability.

Waiting chair is composed of armrests, seat panels, back panels, beams and screw fittings. There are several materials for the armrests and feet, generally aluminum alloy or stainless steel, etc., large-scale precision casting molds, direct polishing after die-casting, and electrostatic powder spraying. The seats of the waiting chairs are composed of one to five people in rows, and the most common one is three people. The waiting chair is sturdy, beautiful and easy to clean. It is flame-retardant, wear-resistant and waterproof. In addition, a variety of colors can be selected to meet your needs. Waiting chairs can be divided into plastic waiting chairs, metal waiting chairs, stainless steel waiting chairs, and PU waiting chairs. Waiting chairs of different materials have their own advantages. Follow me to learn about the advantages of waiting chairs of different materials, which can be selected according to different needs.
1. Plastic waiting chairs
(1)The mobile design can be flexibly swayed according to needs, and can choose double, triple and quadruple seats; a variety of colors can be selected, which can be matched according to the needs of public areas;
(2)Modeling and structural design that meets ergonomic principles;
(3)Most of the chair surfaces are made of new imported PP plastic material, which has the advantages of impact resistance, anti-aging, and anti-fading;
(4) Double-layer anti-rust technology on the surface of the metal bracket, not easy to fall off the paint, strong and durable.
2. PU waiting chairs
(1)Polyurethane is a high-end material, the leather is soft, wear-resistant and breathable, with clear lines and elasticity.
(2)The service life of PU is 3-4 times longer than that of traditional leather.
(3) The foam core layer structure has the texture of leather and the sitting feeling of sponge. It is resistant to cold and does not burst. The chair is especially suitable for cold weather.
(4)Easy to clean, easy to maintain, not easy to breed bacteria, especially suitable for medical supporting projects.
(5) It can be flame retardant and meet the fire safety requirements of public places.
3. Metal waiting chairs
(1)The mobile design can be flexibly swung according to the needs, and can choose two people, three people and up to five people; optional seats and back cushions;
(2)All-metal structure, the shape and structure design meet the ergonomic principle;
(3)The chair panel is decorated by CNC punching, which is simple and fashionable, and the surface is decorated with spray plastic, which is beautiful and elegant, with a sense of strength of metal. It is suitable for indoor waiting and resting places such as airports, high-speed railway stations, and banks.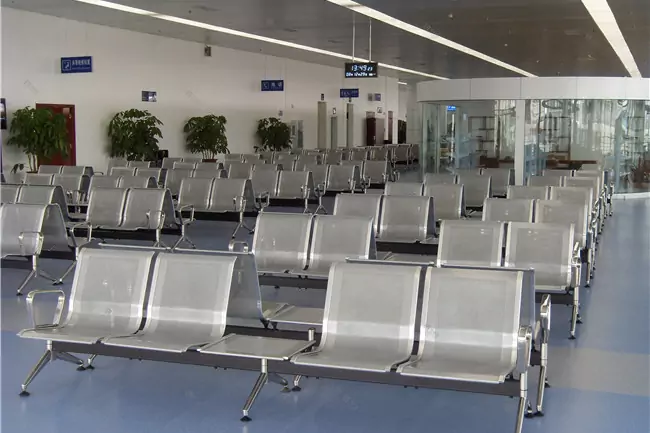 4. Stainless steel waiting chairs
(1) Well-made, sturdy and durable, with strong rust resistance and fire resistance;
(2)The stainless steel is shiny, elegant and beautiful in appearance, and is popular with Europe and the United States;
(3)Rubber pads are installed at the bottom of the waiting chair feet to prevent scratching the floor.